Homework: Research Public Records on MuckRock
Browse MuckRock. Document 5 successful and 5 rejected public records requests.
Deadline
Thursday, October 13 at 12:00 AM
Deliverables
In your padjo-2016 folder, create a new spreadsheet named muckrocks

The muckrocks spreadsheet should have one tab named completions, which should document 5 requests on MuckRock that were completed and are interesting to you.

The muckrocks spreadsheet should contain a second tab named rejections, which should document 5 requests on MuckRock that were rejected.
Requirements
Follow the schema in this spreadsheet

For the completions tab, try to browse around for requests for information that you didn't realize were public record. Try to expand upon what you already know to be public record.

For the rejections tab, I want you to list the specific reasons/exemptions for the rejection. List the law/code that the responder cites, and briefly explain the reason in your own words.

Try to pick a variety of agencies at different jurisdictions, to get more exposure to the subtle differences between states and locales.
About MuckRock
MuckRock is a non-profit service that helps users file and track public records requests. As a side effect, requests that go through MuckRock are published for everyone else to see, including not just the results of the request, but all the intermediary communication.
This makes MuckRock a great resource for learning how to do public record requests, whether you need just state-specific boilerplate to copy, or you're looking for inspiration on what to ask for.
Browsing requests on MuckRock
Start your browsing of MuckRock here: https://www.muckrock.com/foi/list/.
On the left side of the page is a box of filter options. Use it to filter for Completed or Rejected: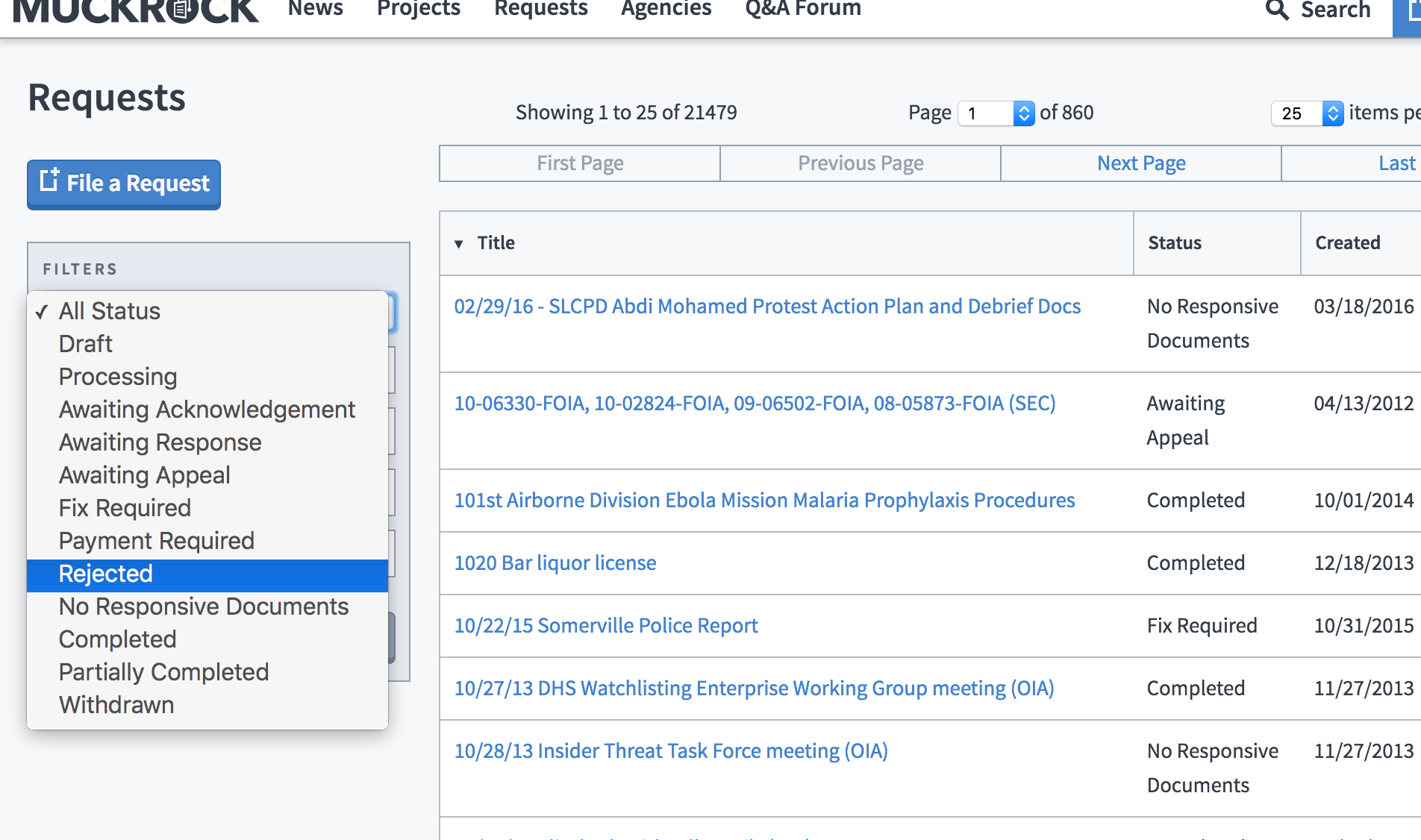 Reading a MuckRock request
Each MuckRock request has its own page, and depending on the complexity of the request, the page will have a lot of subsections.
Let's look at this example: 1122 Vehicles delivered to CO Auto Dealerships
The default view is to show all of the Communications. The top message is the initial request, by Daniel Welch on August 5, 2015, in this case: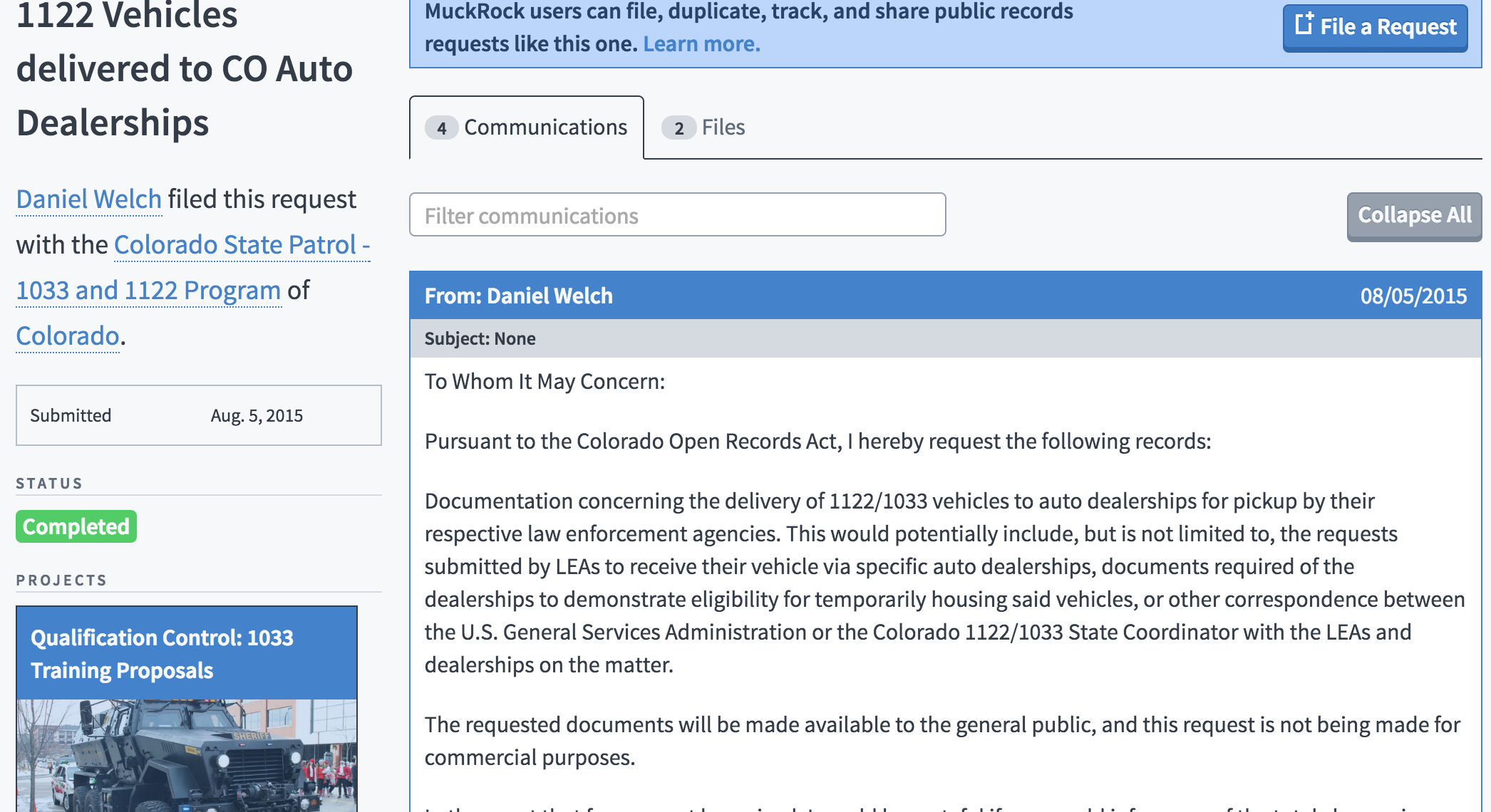 For most completed requests, the very last message usually contains the response with file attachments, which you can download and examine on your own:
Sometimes the files are scattered across various messages, as the agency delivers the information over a period of time and negotiation. At the top of every request page is a Files tab, which provides a convenient listing of the sent files: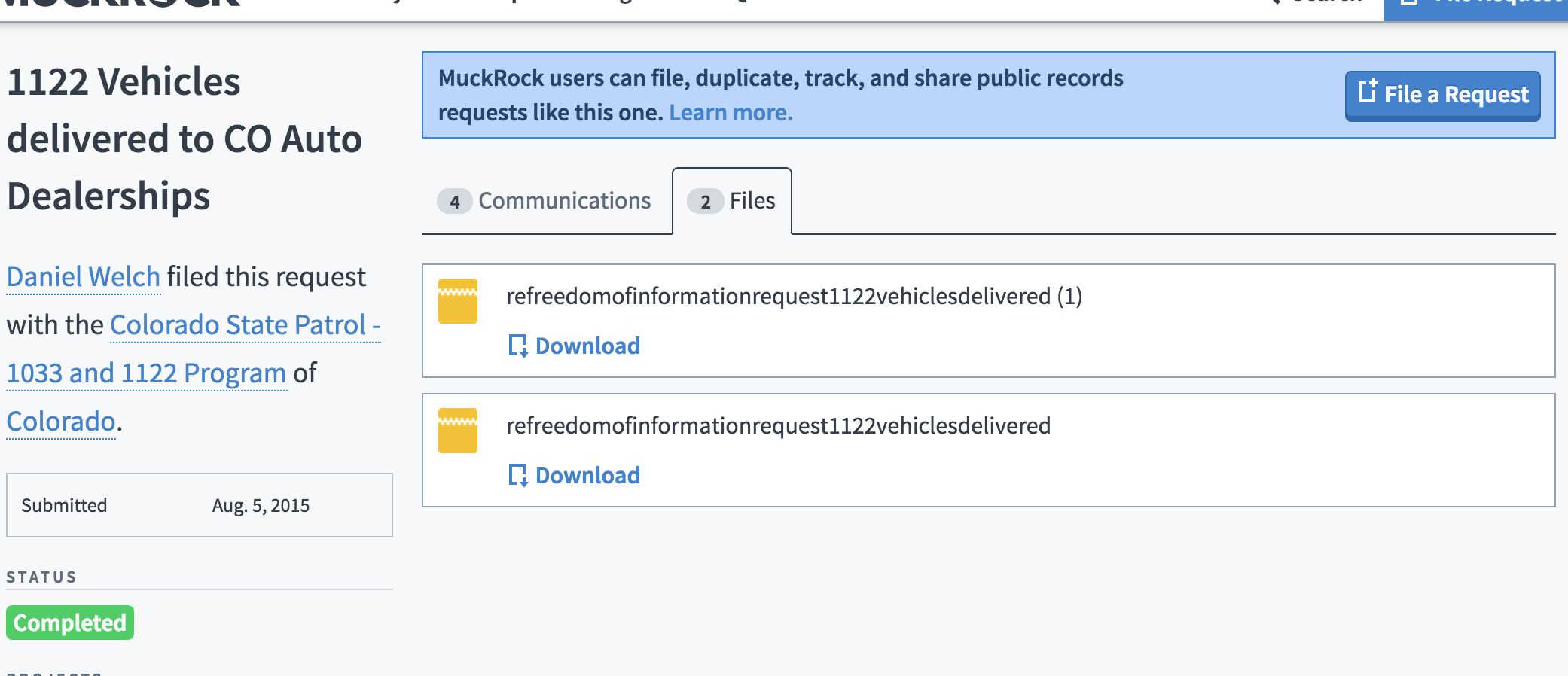 Filling out the spreadsheet
Pretty straightforward, just follow the template here:
Most of the information can be read directly from the MuckRock page for each request.